We are happy to provide this live blog as this winter storm impact the state.  If you appreciate our hard work, please consider making a donation by clicking this link.  We thank you for your continued support!
10:37 pm EST update
The latest Mesoscale Discussion from the Storm Prediction Center…
SUMMARY…Moderate to localized heavy snow will continue in the deformation zone, with 1-2 inch per hour snowfall rates likely.
DISCUSSION…Regional radar shows an elongated axis of moderate snow stretching from northeastern Ohio southwestward into western Kentucky. This snowband has developed within a deformation zone located along the northwest side of a surface low over eastern Kentucky. Areas within this zone are experiencing rain that transitions to a brief period of freezing rain and then eventually snow with the east-to-west progression toward deeper cold-air advection. This snowband is expected to continue tracking east-northeastward as the system continues to lift northeast. Some localized banding is also evident in regional radar and is expected to continue with the presence of mid-level frontogenetical forcing for ascent. Snowfall rates of 1-2 inches per hour are likely, particularly within any localized snowbands that develop.
10:29 pm EST update
We now have our first two counties under Travel Warnings, Bartholomew and Warren.  With a travel warning, you need to refrain from all travel, comply with necessary emergency measures, cooperate with public officials, and obey and comply with lawful directions of properly identified officers.  Out of the 92 counties, only 15 or 16 counties are not under any travel advisories, but that could change, again blowing and drifting of snow will make travel very hazardous tonight and travel for anywhere is highly not recommended.
8:55 pm EST update
Travel across much of the state is not recommended as several counties are now under Travel Watches, with many, many more under Travel Advisories.  If you don't have to go out this evening, please just stay at home this evening.
Now a look at the radar, snow has come to an end for the northwest portions of the state, moderate to heavy snow falling across the southeast portion of the state.  Areas of blowing and drifting snow will remain possible through the evening and into the overnight hours as winds will continue to gust 25 to 40 mph and will create dangerous wind chills tonight.  So to emphasize, if you don't have to be out this evening, just stay home. 
5:24 pm EST update
We have the latest on areas under Winter Storm Warnings and Winter Weather Advisories.  We have three counties that are no longer under the warning, and 7 counties under a Winter Weather Advisory.  The other 82 counties are under a Winter Storm Warning. 
There's also many northern Indiana counties under Travel Watches, with many, many more counties under Travel Advisories.  Conditions will only become worse during the evening hours as colder air moves in and blowing snow becomes more of a factor. 
4:32 pm EST update
A look at the radar, we are beginning to see the overall trend to more wintry precipitation and this will continue to occur from west to east and southeast.  The colder air is beginning to filter in and we are seeing wind gusts between 20 and 40 mph.  Also as the colder air moves in, the snow will transition from more of a wet snow to more of a fluffy snow and combine that with the winds, chances will increase from blowing and drifting of snow.  Temperatures are in the 20s and 30s, but will continue to gradually fall. 
4:30 pm EST update
The following is a Mesoscale Discussion from the Storm Prediction Center…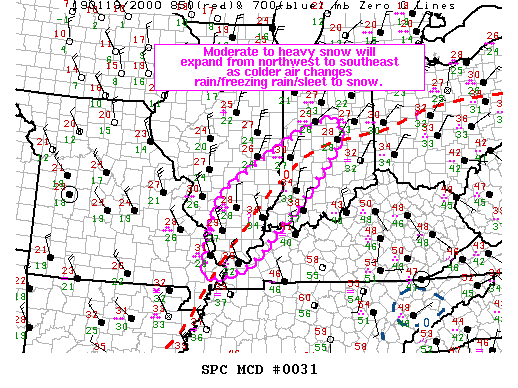 SUMMARY…Rain, freezing rain, and sleet will continue to transition to snow from northwest to southeast with moderate to heavy snowfall expected across this area through the remainder of the afternoon and into the evening.
DISCUSSION…In the last hour, winds have shifted to northerly up to 2 km on the KIND and KVWX VWP as the 850mb low has started to shift east of that longitude. This has started to switch rain to snow across portions of this area with a continued transition expected over the next several hours. The developing deformation band will likely have snowfall rates in excess of an inch per hour. Therefore, significant snowfall accumulations are likely through the evening before the system shifts east and drier air moves into the area. In addition to the impacts from the rapidly accumulating snowfall, winds of 20 to 30 mph with gusts as high as 40 mph will cause significant blowing and drifting and visibility restrictions. This will become particularly impactful during the evening hours as a colder airmass advects into the area and leads to a drier snow which will be more prone to blowing and drifting.
2:45 pm EST update
The following is a Mesoscale Discussion from the Storm Prediction Center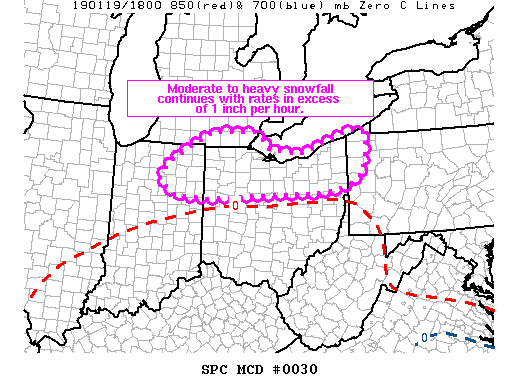 SUMMARY…Moderate to occasionally heavy snowfall continues across portions of the southern Great Lakes. Snowfall rates are expected to lessen across northern Indiana over the next few hours, with increasing snowfall rates across northern Ohio through the afternoon and into the evening.
DISCUSSION…The moderate to heavy snowfall bands which have set up across northeast Indiana have persisted into the mid-afternoon. Water vapor and radar trends suggest snowfall rates will decrease across this area in the next few hours and taper off into the early evening. Snowfall rates continue to increase in northern Ohio north of the rain/snow line. Correlation coefficient radar data from the KCLE 88D and surface observations show the freezing rain/snow line has lifted further north over the past few hours and is currently located just south of Mansfield to near Canton. This rain/snow line could progress another half a county north or so before stalling as the 850 flow backs ahead of the approaching surface cyclone, now around 998mb just west of Nashville. North of this boundary, snowfall rates will continue to increase with current rates around 0.5 to 1 inch per hour increasing to 1.5 inches per hour or greater by later this afternoon and into the evening as the mean mixing ratio increases to above 3 g/kg and lift is maximized north of the approaching surface low.
1:30 pm EST update
Taking a look at the latest Travel Status, several northern and central counties are now under Travel Watches, with nearly all of the northern counties, a good portion of central, and east-central counties under Travel Advisories.  Even though Delaware County is not under any kind of travel advisory, I would still use extra caution going through that county due to the freezing rain that fell this morning.  We may still see a few more counties go under watches and would not be surprised as the snow accumulates and the winds increase, that one or two counties go under Travel Warnings. 
12:30 pm EST update
A look at the radar is showing the area of freezing rain diminishing in coverage somewhat as temperatures are beginning to fall.  Snow should begin to fall shortly in the Muncie area if not already and as we continue into the afternoon hours, snow will continue to expand in coverage.  Areas of heavy snow will be possible and again I have made some small changes to the snowfall potential, now putting portions of the east-central counties back in the 6 to 8 inch snow range, with a much of the state seeing 3 to 6 inches of snow, with isolated higher amounts, the other exception will be west-central counties, where 1 to 2 inches of snow will be possible.  We will have additional updates on the Travel Status and more after we take a bit of a break. 
11:20 am EST update
Here's the Mesoscale Discussion provided by the Storm Prediction Center…
SUMMARY…Moderate to occasionally heavy snow will continue into the afternoon. Snowfall rates of 1 to 1.5 inches per hour are expected.
DISCUSSION…A large precipitation shield has developed north of a deepening surface cyclone moving into the southern Ohio Valley. North of the rain/snow line, currently located just south of Marion, Indiana to near Delaware, Ohio, moderate snowfall has developed. A band of enhanced snowfall rates has developed from Rochester, Indiana to near Ann Arbor, MI. The location of this band matches 12Z NAM cross sections which had an area of negative saturated equivalent potential vorticity (EPV) above the low-level frontogenesis forcing. This area of conditional symmetric instability(CSI) is expected to wane by 18Z and then redevelop between 18Z and 21Z across northwest Ohio. Snowfall rates beneath these heavier bands will likely exceed 1 inch per hour with snowfall rates above 1.5 inches per hour possible. Outside of these stronger bands, snowfall rates will be around 0.5 to 1 inch per hour.
10:40 am EST update
Now let's take a quick look at the Travel Status update, currently only Benton and Franklin counties are under Travel Watches, which basically means only "essential travel" such as to and from work is recommended.  Many of the northern and central counties are under a Travel Advisory.  Like everything else, we will keep an eye on the Travel Status throughout the day. 
10:15 am EST update
For this update, we are focusing on the freezing rain that is falling along and just north of I-70.  As we mentioned in the previous update, reports of downed powerlines and power outages throughout Randolph County.  Taking a look at the radar, some of the heaviest freezing rain is falling where you see some of the darker red colors.  We have a zoomed in radar look below…
The potential highest ice accumulations through early this afternoon, will likely be over east-central counties, where up to a quarter inch of ice is not out of the question, with locally higher amounts.  To the west, ice accumulations of up to two tenths of an inch is also possible, add on the breezy conditions, this sets up for the potential for power outages and down branches and powerlines.  So even if the snow is not falling yet, the ice is far worse and will make driving very hazardous this morning, and any snow on top of the ice will only make things worse, so travel is NOT advised at this time for any areas along and just north of I-70, where freezing rain have been the predominate form of precipitation so far.  By this afternoon, any areas that have seen freezing rain is expected to change over to snow.  
9:15 am EST update
Good morning, here's the latest that we have right now, every Indiana county except 5 are currently under Winter Storm Warnings, though the far northwest counties, the warning will expire at noon CST, while the north-central and northeast counties expire at 2 pm CST. Central and east-central counties will expire around 4 am EST Sunday morning. Southeast counties expire at 8 am and noon EST Sunday depending upon which southeast county you are in. Southwest counties expire at midnight CST, finally south-central counties expire at 7 am EST Sunday morning.
Now to the snow accumulations, the addition of Winter Storm Warnings further south, I had to up snowfall potential there to the 3 to 6 inch range. Based on snowfall reports, northwest counties could still see 5 to 8 inches, as well as east-central counties. West-central counties could only see 1 to 2 inches, while the rest of the northern and central counties could see 3 to 6 inches.
Randolph County EMA officials are reporting down powerlines due to freezing rain that is falling and continuing to fall as of this update, with obviously loss of power throughout the county.  Not many snowfall reports to pass on as of now, but the reports I've seen, so far only about an inch or two of snow has fallen so far across north-central counties.  Current look at the radar is showing rain falling mainly across areas south of I-70, with freezing rain falling across areas just north of I-70 including Muncie, Anderson, Elwood to name a few, snow falling further north.  A band of moderate snow falling in Frankfort, Kokomo, and over to Marion. 
We will continue to update this blog live throughout the day with radar updates, Travel Status updates, snowfall reports, and more.  Finally, if you appreciate our hard work, please feel free to make a small donation, you can by clicking here.